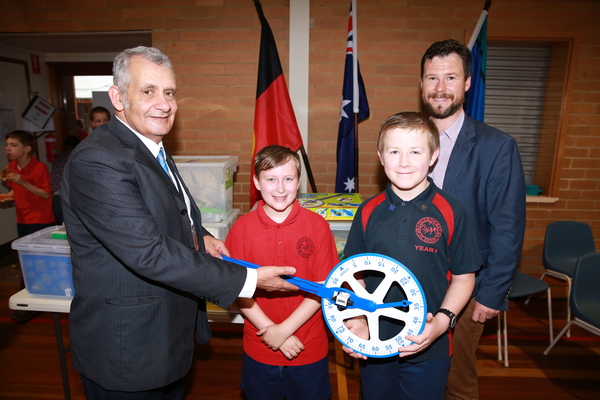 By Derek Schlennstedt
Students at Badger Creek Primary have received new maths equipment as part of a donation from the Healesville Rotary Club.
With the help of various maths apparatus; from calculators and abacuses to a measuring wheel, no math equation will be too hard for the students to tackle.
At the school assembly on Friday December 1, Principal Scott Crawford unveiled the table full of equipment and said that it was only a small taste of what else was to come, with more equipment to be donated from Healesville Rotary.
"We have so much measurement, shape and maths gear for you all to use and it's all thanks to Rotary," Mr Crawford said at the assembly.
"This is just a small taste of what we've got – two more packs still to come."
The Mail spoke to Assistant Principal Sue Hartley who said the packs would help improve their applied maths program, which had recently undergone extensive changes and required better equipment.
"We had limited material for the kids to use, and so we've gotten two kits for each applied maths area … it's really boosted our maths equipment," Ms Hartley said."
"It'll make lessons more hands-on and it will bring higher engagement for the applied maths program that includes measurement, shape, and space."
"We've been working hard on our maths program and have had great results in the students' growth and learning … the maths equipment will enhance the program even more."
Graeme Chester, vice-president of Healesville said they were glad the maths paraphernalia component of a $3000 grant from Rotary would be put to good use, and improve the students' education.
"They've made major improvements and exceeded the averages in the state, but they still want to improve more and have reached a level where they needed some new numeracy resources to do that," Mr Chester said.