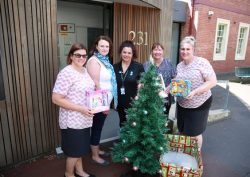 By Derek Schlennstedt
Yarra Valley residents are being called on to lend a hand and help brighten up a family's Christmas, with Healesville Interchurch Community Care (HICCI) gathering donations of new toys ahead of the festive season.
The annual donation drive provides hampers and toys for families who are experiencing financial difficulties.
Every year HICCI send out 200 hampers to help those in need of some Christmas cheer and this year they're calling on residents to help them fill those hampers.
"We give out approximately 200 hampers every Christmas to people who might be doing it a bit tough and need a bit of Christmas cheer," emergency services manager Sheree Lauman said.
"Any Christmassy items … food, non-perishables are better, we often get Christmas cakes, custard, chips, anything that'll help make a nice Christmas meal for Christmas day."
HICCI is a network of Christian churches in the Healesville and Yarra Glen areas providing practical services and friendship to local community members and offering practical help and friendship to individuals and families in times of difficulty and crisis.
HICCI executive officer Alison Gommers said that last year HICCI had 4730 occurrences in the 2016-'17 financial year where they helped individuals and families, with food parcels making up 1873 of those incidents.
Ms Gommers urged anyone going Christmas shopping to spare a few dollars or buy a new toy.
"We prefer to give new toys than secondhand ones, as it's always nice for kids to have something new," Ms Gommers said.
Healesville Community Bendigo Bank are also supporting the cause, along with Healesville Community Link where residents are able to drop off any donations.
Ms Gommers said the support from local business, residents and clubs was vital to their work.
"We do get a lot of support from local businesses and service clubs and without that we couldn't do the work we do," Ms Gommers said.
To contact HICCI, simply call the new number 5911 6000 or visit the office at 231 Maroondah Highway, Healesville.