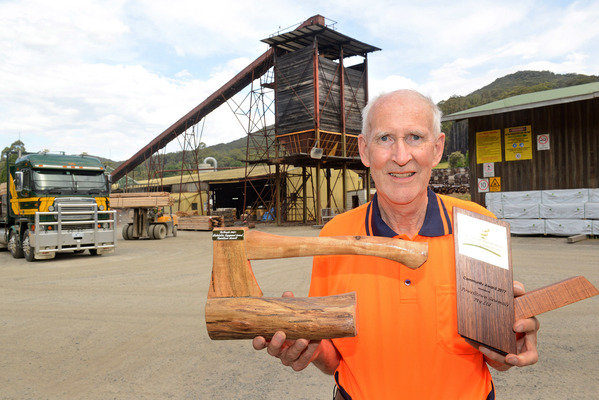 By Wendy Williamson
Powelltown sawmill manager Harold Fox has paid tribute to his late wife, Carmel, after the sawmill received a prestigious forest industries award for community engagement.
Powelltown Sawmills Pty Ltd won the Victorian Association of Forest Industries (VAFI) Community Award.
It was one of several awards presented at the annual VAFI dinner held at RACV City Club on November 17.
Harold Fox said it was "a surprise, totally unexpected" to receive the award.
"It was really down to Carmel's efforts," he insisted, explaining that until her sudden death earlier this year his wife had been the driving force behind Powelltown Sawmills' community involvement.
Aiming to employ locals as far as possible and help keep Powelltown a viable community, the sawmill employs more than 30 people and is a regular supporter of local sporting clubs and community organisations.
It hosts the occasional tour by school groups and other interested parties. The visitors are taken through the entire process, from the harvest in the forests of giant Mountain Ash that surround Powelltown to processing the timber in the sawmill.
The timber is sold to wholesalers and is ultimately used in the manufacture of fine furniture and building supplies, from timber cladding on smart new houses to decks.
Buoyed by the ongoing support of his family, Mr Fox is doing his best to ensure the sawmill continues to play a prominent role in the Powelltown community. "But we can't do what she did," he says ruefully of Carmel.
VAFI chief executive officer Tim Johnston said the 2017 VAFI Awards were recognition of the outstanding work by businesses in the Victorian forest, fibre and wood products industry and examples of how the industry was working to ensure it had a bright future.
Powelltown Sawmill has a secure log supply from VicForests until 2023.