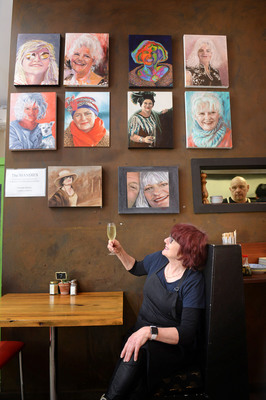 By Jed Lanyon
Long-time Healesville resident Amanda Markin passed away on 4 September less than a year after being diagnosed with breast cancer and now a Healesville cafe is paying tribute to her life.
Watts River Cafe and Store in main street Healesville has placed several portraits of Amanda along the wall of their restaurant to honour her memory in a project they call 'The Mandies'.
Amanda was an artist and the portraits were each completed several months ago by members of her art group as a project to surprise her before she passed away.
Amanda's husband Andrew Markin said, "When we got back and Mandie saw them all it was just a brilliant day… It was pretty special."
"We had them all up on the wall for her in the palliative care unit for her last couple of weeks.
Mr Markin said that many of Amanda's family members and friends will take a portrait to remember her.
He and Amanda's father, John Prior, visited the cafe and said they felt overwhelmed by seeing the artwork hanging from the walls.
"Every time we come here (Healesville) it reminds me of when we came with Mandie. But to see the paintings on the wall here, it's just great," Mr Prior said.
Amanda's close friend Heather Foks works at the Healesville cafe.
"She actually cut my hair when I had breast cancer ten years ago… She cut it short, shaved it off and then helped me buy a wig and all that. We were very close," she said.
"For her to go on and be really positive for the last six months of her life, right up until she passed, she was inspiring.
"She just lived her life to the maximum for the last six months."
Ms Foks said that customers have been blown away by the artwork.
"I tell them the story of how she was diagnosed. It's really good for women to see it."
Ms Foks said that she hopes it can also act as a reminder for women to check their own breasts.
The Markin's operated what was originally a hairdressing salon out of their home up in the mountains of Healesville since 2001.
In 2006, Amanda turned it into a beauty day spa and managed the Piaf Day Spa, which she named after French singer song-writer Edith Piaf.
"She lived a life of passion and was probably slightly crazy… And I think that touched a chord with Mandie," Mr Markin said.
Mr Markin said he hopes that people who see the paintings inside the cafe are inspired to enjoy every bit of their life.
"The candle that burns twice as bright only lasts half as long… If you want to do something, do it. Don't wait.
"She was a bright spark. Always theatrical, always dramatic, always colourful, always generous with her time for people. We are just devastated.
"She was adamant she wasn't going to seek treatment. What she was going to do was use the time she had left to do the things she wanted to do.
"She said, I'm not going to waste this little bit of goodness I've got left by sitting in hospital."
Mr Markin said they celebrated hard for Amanda's 65th and final birthday in Port Arlington, an event he described as one of the best nights of their lives.
"She danced the night away, wore her shoes out, tore her dress and she just had the best night ever."
Amanda's portraits will be on display at Watts River Cafe and Store for the month of October.