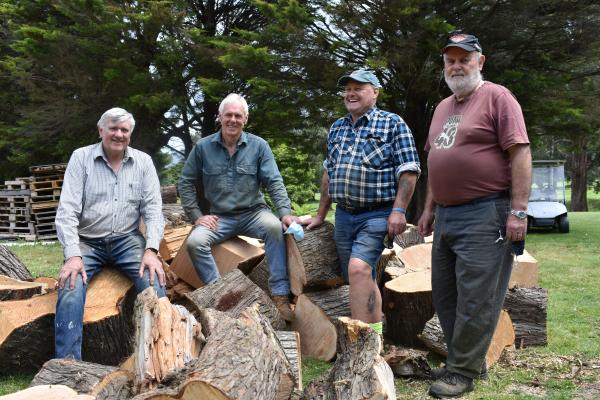 By Romy Stephens
The next time you walk by your local golf course, take a look around. Have you ever considered the people behind the scenes that keep the course in pristine condition?
The Garden Club at Warburton Golf Club meets every Tuesday, and the tight-knit group of volunteers dedicate their time to maintain the scenic golf course.
Mowing, pruning and cleaning up fallen tree branches are among the numerous jobs these volunteers carry out.
"As far as I can ascertain, our Garden Club followed on from the organised working bees that were held every three months – to follow the seasons as such," Garden Club member and former Golf Club president Ron Hottes said.
"Some bright spark, I suggest it was Dick Leith, thought it would be better if a willing group of retired, and semi-retired members, met at the club every week to do general maintenance, gardening, repairs and anything else the greenkeeper, of the time, wanted done."
Ron said the Garden Club was first formed in the 1960s.
"We actually have two members from those years who are still active in the club. They are Dick Leith and Paul Kennedy.
"The original chief organiser, back then, was Alan Johnston, and he is still an active golfer at our club, but no longer is involved with us."
Ron recalled a story that described the work that Dick and Paul have continued to do at the club in recent years.
"Even just a couple of years ago, this marvel (Dick) would jump in the scoop of the front-end loader, the driver, usually John or P.K. would then lift him up to those branches we wanted to remove, but were out of reach, and Dick would lean over the edge and cut them off with his chainsaw," Ron explained.
"He was 90 plus years young at that time."
Back in the '60s and '70s the Warburton Golf Club course was just growing in the 18 holes it is today.
Much of the work done back then was heavy-duty tasks, such as earth moving, clearing large tracts of trees and repairing many of the rocky areas.
"Over the following years, and decades, much work was done to transform the course, to create the much-complimented course we play on now," Ron said.
"Many members were involved, some stayed with Garden Club for many years, others came and went in quick succession."
Ron said he first started with the Garden Club in 2005.
"At that time, the only ones who were there then, that are still part of it, are Dick and P.K," he said.
"In the last few years we have lost some members, either through leaving the club, or old age catching up with them.
"Our most notable permanent losses have been Dermont Woodcock, Woody, and Ralph Logan."
Ralph's wife, De, is still with the garden club, and despite not being a golfer, she is an avid gardener – having tirelessly committed to the magnificent gardens that surround the club house.
Those that visit the club over spring and summer will see De's garden blooming in all its glory.
"Also, if you visit the club on a Tuesday, you are likely to find our group cutting branches, pruning, whipper-snipping, burning-off – when allowed – doing course repairs and maintenance, and myriads of other tasks that are required all-year-round," Ron said.