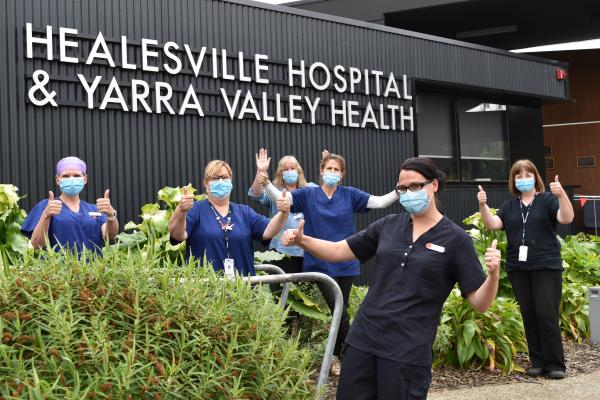 By Jed Lanyon and Taylah Eastwell
This is for the frontline workers.
In our hospitals, clinics and testing stations, health care workers risked their wellbeing to care for others during Covid-19's deadly first and second waves.
The unstinting nurses, doctors, surgeons, cleaners, counsellors, specialists, receptionists and the myriad of health care workers at Eastern Health are the Star Mail People of the Year.
Below is an insight into the battle waged by health workers on the front line.
Karen Pieters – Nurse Unit Manager Operating Theatre – Healesville Hospital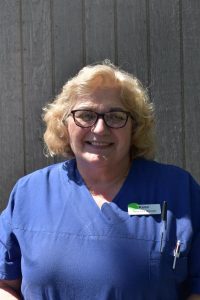 Ms Pieters' operating theatre at Healesville Hospital was shut down in March when elective surgeries were halted due to the Covid-19 pandemic.
Ms Pieters and her staff had their roles change drastically as they were allocated to help support Covid testing at GP clinics, pop-up sites and outbreak locations in Kilsyth and Wantirna.
"All of the operating staff were just incredible, I haven't heard one grizzle from them after we've had to put on so many hats. One of the values of Eastern Health has been our adaptability, I'm so proud of my staff and myself."
Ms Pieters, a Mount Evelyn resident, said part of her new role was alleviating the fears and anxiety of nervous patients. She said her staff were trained in analysing people to see how they were coping.
"Patients would come into the testing clinics and they'd be absolutely petrified. It's like a pregnancy, they've only heard the horror stories. They've heard, 'this is going to be shoved up your nose and into your brain' and stories that just weren't correct.
"They'd walk out often happy and laughing and there'd be lollipops given out to the children.
"Some days you'd just go home and be balling your eyes out. You've got these sad and lonely patients who haven't seen anybody, and you see they're so excited to be getting a Covid test because they haven't seen anybody."
Ms Pieters held concerns for patients who were receiving treatments for other serious conditions and illnesses but feared they would contract the virus.
"They were scared to go to hospital and they were scared to have their procedures done. They said, 'I feel as if I should wait until Covid-19 finishes' but your potential illness or cancer may not wait for that."
Victoria's efforts in suppressing the second wave of the coronavirus meant that Ms Pieters and her staff could return to the operating theatre once again.
"We started operating in October, we're pleased to come back and do what we're all employed to do."
Ms Pieters admitted that she would be in a high-risk category if she contracted the coronavirus.
"If I got Covid, the chances of me dying would be reasonably high. But you go into nursing because that's what you choose to go into. It's the same as when you go into the navy and board a ship.
"You have to believe in the equipment and policies and the process has been terrific."
Craig Hamilton – Nurse Unit Manager, Dialysis Unit at Healesville Hospital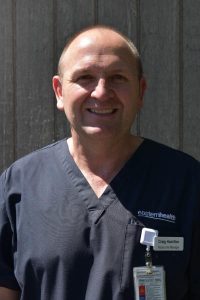 Craig Hamilton's unit helps provide dialysis treatment for renal patients experiencing kidney issues.
Mr Hamilton, from Wonga Park, said it is "impressive" to see a Dialysis Unit located out in Healesville.
"It's relatively exceptional to have a service like this provided in country Victoria. Not all country towns have a dialysis unit and some patients might be travelling an hour and a half to receive their dialysis in a centre."
If it weren't for the Healesville Dialysis Unit, local patients would be travelling to Maroondah Hospital three times a week.
As the dialysis is essential for a patients survival, the work of Mr Hamilton and his staff didn't change all too much throughout the pandemic. But as patients requiring dialysis are likely to be imuno-compromised, it was vital that Eastern Health created a CovidSafe environment to prevent any transmission of the virus among patients.
Screening patients and identifying those who were sick was crucial for the Dialysis Unit to successfully carry out their work in a safe manner.
"The process around a patient attending for dialysis changed somewhat. We go through an important process when a patient enters a hospital, their temperature is taken and they are asked if they are well enough to enter the hospital.
Mr Hamilton explained that the Dialysis Unit had become separated from other functions of the hospital to ensure the safety of patients.
"It was important for us to ensure these patients don't mix in with the population or with other patients who have kidney failure.
"We always have a safe environment, but now we have a CovidSafe specific environment that has been created to essentially protect the patients and the staff from the likelihood of contracting Covid-19."
As renal patients are in the high risk category for contracting the virus, Mr Hamilton said his patients didn't take the threat of the coronavirus lightly. He said patients would still be adhering to strict Covid-19 protocols as the threat of contracting the virus poses a greater risk.
But due to these same initiatives, Mr Hamilton noted some patients had been in better health, having not encountered common viruses as the flu over the winter.
"The patient group has been the wellest I've seen as they haven't picked up the usual respiratory infections as you would over winter."
"They've all been pretty conservative, they haven't gone out to the shops, they've had food delivered and they stay away from everyone. It's pretty impressive they're able to do all that and they're all quite sensible and wanting to make sure they are safe."
Working on the frontlines of the fight to suppress the virus comes with risks, and for Mr Hamilton, he was forced to isolate and get tested in a period where he was experiencing mild cold symptoms. Thankfully he tested negative.
When asked what he has learned from this year, Mr Hamilton said that "life is precious".
"We're lucky here in Australia in terms of our healthcare, we have an excellent system. But with diseases there is always the risk associated with it spreading, like this virus. I've taken away how fortunate we are to be in such an excellent health system that supports us all beyond the walls of the hospital."
Sharon Young – Administration and Social Support Group Worker – Aboriginal Health Team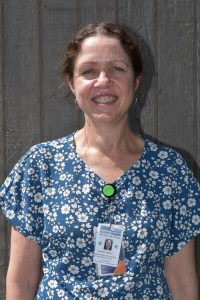 Sharon Young is an administration assistant and social support group worker in the Aboriginal Health Team at Healesville Hospital.
Ms Young would typically undertake administration duties as well as take elders out on trips, but this changed drastically when Covid restrictions came into effect.
"Like everyone they were stuck at home. A lot of the clients say the outings are their saviour or the thing they look forward to, some live alone, it helps them greatly so I'm sure they were disappointed but they understood," she said.
"For me, it just meant I had extra time in the office to help out and catch up on things I don't normally get to do," she said.
Ms Young, a Healesville resident, said her role moved from the office to home once the work from home direction was announced.
"I enjoy it and hope it might be something that happens moving forward. The challenge was just getting the computer side of things working at the start but once it got going it was good.
When the second wave hit, Ms Young was glad to be a Healesville resident away from city crowds.
"I thought he (Daniel Andrews) was on the right track. We just had to close it down and it looks like it worked. I felt lucky we live in the lovely little town of Healesville where we were away from everyone," she said.
For Ms Young, the highlight of the year has been how every single person at Eastern Health has been acknowledged for their contribution over the difficult year.
"I know we need admin to function, but the clinicians and the nurses are the real heroes. It's good everyone gets recognition, from the cleaners to the cooks. The managers and CEO's of Eastern Health have been sending emails throughout the time and thanking everyone, it just shows we are all in it together and have to keep moving forward," she said.
Michelle Fleming – Associate Program Director, Specialty Medicine and Ambulatory Care.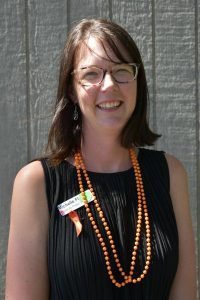 Michelle Fleming's role is to lead the community health, Aboriginal health, GP clinic and sexual assault services at Eastern Health across the Yarra Ranges.
"I support my teams to make sure they've got what they need to see their patients every day, while looking at new opportunities and looking at new services and then supporting my teams to deliver the services to our clients."
Ms Fleming stressed the importance of healthcare workers, who would ordinarily be caring for others, to ensure they are taking care of themselves as well in such a difficult period.
"It is so incredibly important to look after ourselves in health," she said. "If we don't look after ourselves we won't be able to be at work and won't be able to look after the community, so it's important to put ourselves first."
She said it's important to eat well and that sometimes all it takes is having an afternoon off or catching up with a friend to help keep the balance right.
"You have to ask yourself, do I need rest? Am I overdoing it? If you're not putting yourself first, you're putting yourself at risk and therefore the community at risk."
Ms Fleming said the Covid-19 pandemic "sped things up" in terms of changes that have been made at Eastern Health. One example would be the increased use of telehealth, which sees health staff communicating via video to patients in the comfort of their homes.
In a post-Covid world, Ms Fleming thinks telehealth will be here to stay.
"One of my colleagues did some research and found around a third of patients thought telehealth was either as good as or preferred over face-to-face appointments," she said.
"It's easier for access as patients aren't worrying about parking. They are in their home environment so they are more comfortable. And for a GP to see someone in their home environment is helpful too to see their furniture or other things in their house."
Ms Fleming said the teamwork established within the walls of Eastern Health had been a welcomed boost and spoke highly of the work of staff members at Ferntree Gully's Angliss Hospital.
"It's a fantastic team down there at the Angliss … That team really pulled together quickly and everyone on site was so supportive.
"There have been a few good things to come out of Covid-19. Seeing the team work and watching them pull together has been great, they've been very resilient.
"The cross organisation partnerships, where one benefits the other, we're seeing theatre and district nursing crossing over, where previously we would never have that connection between staff groups.
Ms Fleming also had praise for the Yarra Ranges community for doing their bit to stop the spread.
"I'm so pleased with what everyone in the community has done to get to this point. They're the ones who've allowed this change in case numbers to happen by staying home and wearing masks in public. That's what really has made the difference."
But Ms Fleming stressed the importance of remaining vigilant when it comes to the coronavirus.
"It's been a really hard road to travel and now it's so precious that we wouldn't want to lose it. It's so important we keep careful and keep up our distancing and hygiene practices.
"We don't want to go where we were a few months ago, we want to still get around and catch up with our friends."
Josette O'Donnell – Senior Health Promotion Officer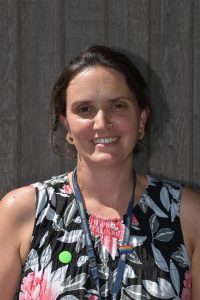 As a senior health promotion officer at Eastern Health, Josette O'Donnell has a strong connection to the Yarra Ranges community in promoting health and wellbeing.
Ms O'Donnell's work saw her work with local schools and sporting clubs to promote wellbeing as well as distributing face masks to vulnerable populations. She said over 10,000 masks were distributed in a six month period.
Her work saw her assist in supporting mobile testing clinics to visit caravan parks in remote areas such as Dixon's Creek and Toolangi.
"We wanted to make sure there were no additional barriers for people to get tested," she said.
"Basically, I work in the field of prevention. I work to try and support our community in schools and sporting clubs to become environments that promote health.
A couple priorities we've had in the last few years is to promote a healthy and active living and to make sure you're getting exercise and not too much screen time.
Another aspect of Ms O'Donnell's work is helping in the prevention of violence against women.
"That one has really been tested in the pandemic," she said.
"It's been stressful staying in the house for longer periods of time and working from home, I think has placed a strain on that environment particularly when the pandemic was at its height."
In the Yarra Ranges, Eastern Health works in partnership with EDVOS, a specialist family violence service in the eastern metropolitan region.
"We led an eastern region campaign to promote gentleness and respect at home in lockdown.
"I think we just had to do things differently and we still are across the state. There's been a lot of research and questions about how you think the pandemic has affected or impacted our relationships.
"In a sense, it might feel like we went backwards in a few priority areas, but at the same time there's been so many things we've learned from the pandemic.
"One of the things that has humbled me is seeing the volunteer efforts of the community. I remember in winter, local footballers had started distributing firewood because there had been a shortage.
"You really see how our community in the Yarra Valley look after each other in a disaster, much like Black Saturday. It had quite an impact on me and made me notice how special the Yarra Valley is."
Like many, Ms O'Donnell juggled work, while helping her two children with remote learning for two terms, completing what she calls "maths with mummy at breakfast".
"I don't think they think I'm the best teacher," she joked. "But I think that was a challenging environment. I've got several roles, here (Eastern Health) is to support the community and the other is to support my own family.
"It has amazed me how Eastern Health staff have dealt with the pandemic, we all have our own personal situations and families and we needed to work to support the community."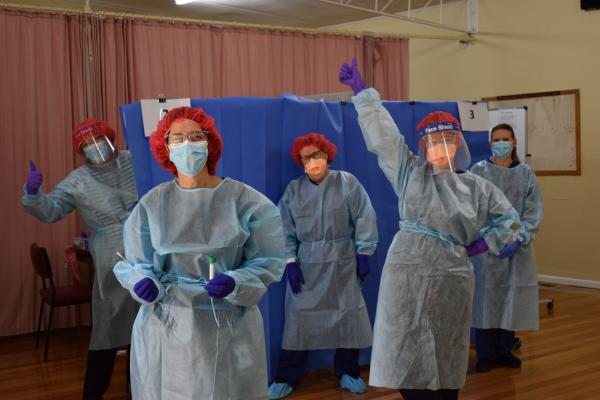 Christine Wittkopp – Nurse Unit Manager at Healesville Hospital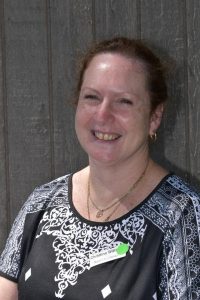 Healesville Hospital nurse unit manager Christine Wittkop explained the role that Healesville Hospital played in the eastern metropolitan area in helping to keep other hospitals functioning efficiently.
"We identified our role through the Covid pandemic and that was to facilitate transfers out of acute hospitals to make sure beds were available and to make sure beds were available in those acute hospitals.
The role of Healesville Hospital helping recovering patients meant that other hospitals in the region such as Maroondah Hospital or Box Hill Hospital were able to take on more patients to keep the system in balance.
"We remained a Covid free site here at Healesville, but we did have patients who had been infected with Covid-19, and once they tested negative, they were able to finish up their hospital stay with us supported by nursing staff and treated by the allied health team until they were ready to get home.
"They may go in for a surgery and then get to the point where they don't have to stay at one of those other sites."
The Covid-19 pandemic meant that there were less at-home services available for patients meaning it took longer for them to get home as hospital staff had to ensure they were more independent than what they would usually expect them to be.
Ms Wittkopp gave the example of elderly couple Vic and Jean who were diagnosed with Covid-19 and spent time in Maroondah Hospital. Vic had been recovering from a broken hip at the time too, but once he was cleared of the virus, he was transferred to Healesville Hospital for the remainder of his recovery.
"He is the perfect example of the type of patients we've been getting out here. They have their acute episode elsewhere and then they come to us when they are well enough to not require ongoing medical treatment, because an acute hospital can obviously provide much more medical support.
"While we may not be seeing and dealing with Covid-19 patients like the other hospitals, we're still supporting our community through it all and being flexible to playing whatever roles we have to play.
Ms Wittkopp reflected on some of the challenges of 2020.
"I think it was just keeping up the morale of staff and even patients. Everyone's just dealing with the same impact that this has had on their normal life. We've had people working from home or have had their holidays cancelled like everyone else in the community.
"It makes you proud as a unit manager that staff have responded when they need to. Whether it's doing extra shifts or going to get swabbed when we're feeling unwell, everyone was willing to stay up to the mark just to get through it all."
Rose Abrehart – District Nursing Team – Healesville Hospital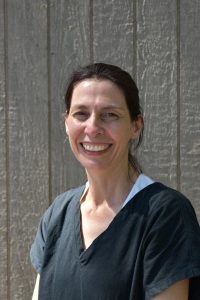 Rose Abrehart is a member of the District Nursing Team based at Healesville Hospital.
The District Nursing Team, made up of about 10 nurses, is a team of highly skilled nurses with varied areas of expertise that provide home visits across the Yarra Ranges Community.
The nurses provide services including wound care, medication compliance, palliative care and general support and monitoring.
Ms Abrehart, from Mooroolbark, said the nurses travel to visit patients at home in towns spanning from Mount Evelyn, to Powelltown, Reefton to Toolangi and all those in between.
Ms Abrehart said the highlight of her work during this difficult year was that she was "still able to provide the services we normally provide."
Dressed in full Personal Protective Equipment (PPE), the district nurses were able to continue attending homes to provide necessary support and care during the height of the pandemic.
"We continued home visits because a lot of our clients don't have other supports, they still had wounds that needed to be dressed," Ms Abrehart said.
"We were just very cautious of what we did, we had access to full PPE the whole time which was good. I didn't feel unsafe because we had some really good protocols at Eastern Health, and where we were there wasn't a huge population of people that did test positive," she explained.
Ms Abrehart's role got a lot larger with the various restrictions and protocols, which involved screening clients over the phone before visiting, conducting in home Covid-screening and sanitising everything she had used inside each client's home – even cleaning the car she travelled in at the end of each day.
"We were really busy because a lot of other services could not provide home visits, so we would pick up the slack for podiatrists and a lot of other home visits that potentially couldn't visit because of the restrictions. We were in high demand because we still had access to people in their homes.
"My team manager also worked in conjunction with DHHS to monitor people who were Covid positive and under quarantine," she said.
Ms Abrehart said the clients found it "quite reassuring to have a bit of normality".
"A lot of clients have been seeing us most of their lives. It was a bit overwhelming us turning up in full PPE, but I think it was more reassuring that we were still able to go and keep them in the loop and keep them less socially isolated," she said.
The humble Ms Abrehart said she would not describe herself as "on the front line", but admits she was a first port of call and involved in reassuring people as much as she could.
"We were just providing a service we would normally provide," she said.
The challenges of working through a pandemic were made easier by the ability to work in a team, according to Ms Abrehart.
"We are connected to the hospital so we're really lucky to have that connection to allied health and GP clinics, so we could still work with other teams during that time which made things better," she said.