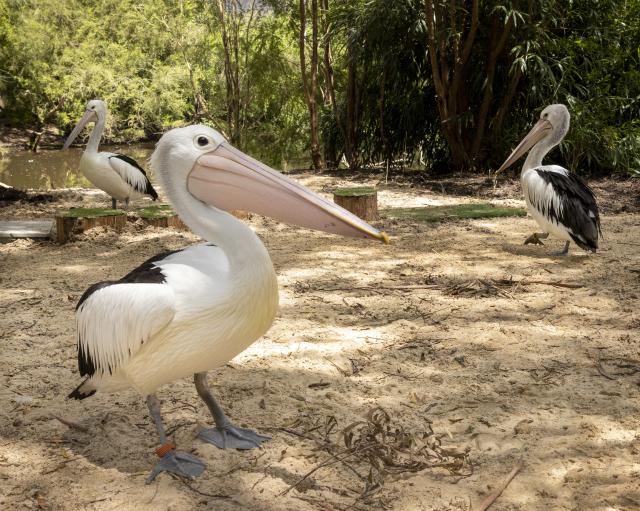 Summer is sorted for the five Pelicans that call Healesville Sanctuary home, with a sandy beach recently constructed alongside their expansive pond.
Not only does this beachfront look good, the soft sand is ideal for the Pelicans' webbed feet and provides the ageing birds in the flock with easier access to land.
Healesville Sanctuary Keeper Sarah Carter said the arrival of two more Pelicans from Melbourne Zoo this week meant the new space would be well utilised – all in view of visitors.
"We created a walk-up beach because obviously wild pelicans are found in sandy environments," Ms Carter said. "The sand makes it easier for the older birds to enter and exit the water.
"We also installed short stumps for perching, which allows keepers to perform health checks on the birds' big, grey, webbed feet.
"The birds have complete choice and control to access Pelican Beach, where we eventually plan to do weight and crate training, so we can manage their overall health care in a non-intrusive way."
A brush fence is being constructed at the back of the beach to ensure the pelicans feel completely comfortable and protected coming out of the water.
Healesville Sanctuary visitors can see the five Pelicans – Pip, Percy, Pearly, Storm and George – within the Woodlands track precinct. Some of the birds reside at the Sanctuary after being treated for injuries, while the others choose to call the Sanctuary home.
Pelicans are native to Australia, and are also found throughout Papua New Guinea, Solomon Islands and Indonesia. Sadly, a major threat to these majestic birds is fishing waste. Zoos Victoria's Seal the Loop campaign encourages everyone to remove litter from waterways to prevent potentially harmful materials threatening wildlife. There are more than 300 brightly coloured Seal the Loop bins all around Victoria's coastlines and waterways.
Zoos Victoria members and Healesville Sanctuary visitors are reminded that all tickets must be pre-booked online at zoo.org.au and all ticketholders 12 years and over are required to provide proof of full vaccination and follow current Victorian Government directions at www.coronavirus.vic.gov.au