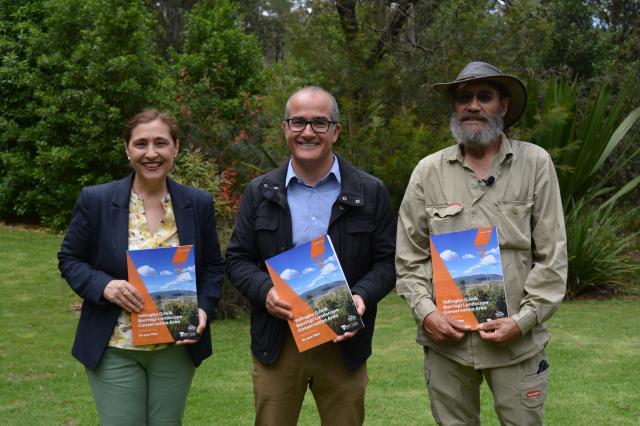 By Renee Wood
Some 3,000 hectares of biodiversity rich land and water frontages throughout the Yarra Ranges and Cardinia Shire will be preserved under a new ten year plan establishing the first conservation landscape area in the state.
Stakeholders and government bodies will come together to manage and restore the land now named the Liwik Barring Landscape conservation area, which is comprised of public land areas, including stream side reserves and existing conservation reserves, stretching from Healesville, Millgrove Hoddles Creek, Emerald and Cockatoo.
Yellingbo Nature Conservation Reserve is included in the area however, the name Liwik Barring, which means Ancestors' trail, was chosen by Traditional Owners, the Wurundjeri Woi Wurrung Cultural Heritage Aboriginal Corporation to reflect the First Peoples history and connection to the land and waterways.
Project Manager Yellingbo Conservation Area, Department of Environment, Land, Water and Planning Justin Foster said it's a very ambitious plan that will align land managers efforts, including Parks Victoria, DEWLP, Yarra Ranges Council, Cardinia Shire Council and Zoos Victoria.
"There's lots of issues that we need to resolve, there's lots of changes for the community that we need to work through. So I think in ten years, we'll have a good basis for the conservation area and then beyond that we'll be working to bring people in," he said.
The ten year plan will deliver on four key themes with several goals connected to fire management, cultural heritage, healthy conservation landscape and community access and recreation.
"Weed management is covered under landscape management, there's a whole set of goals or strategies dealing particularly with weed management. We have a pest animal strategy, so that covers wild dogs, cats, foxes, rabbits, they're probably the key ones."
Rejuvenating the area for endangered flora and fauna is one of the main reasons for forming the plan, as the area's home to lowland Leadbeater's Possum and Helmeted Honeyeater.
Three zones have been created; a conservation zone, restoration zone, biodiversity and community use zone – as community recreational spaces will allow locals and travelers to enjoy the state's natural assets.
"We've heard from the community that recreation is very important, so a good thing in this new type of conservation landscape there is provision for passive recreation, in other words, low impact recreation, hiking, bird watching, even fishing. We have some even some areas of on lead dog walking in certain parts, but that's very restricted."
Stock grazing from neighbouring landholders will no longer be allowed on the crown land and water ways to protect the waterways and land, and grants are available to set up fencing.
The State Government committed to the creation of the reserve in 2014 following the release of the Victorian Environmental Assessment Council Yellingbo Investigation Final Report.
The community was also consulted on the interests of what should happen with the land and a draft plan was issued in 2018.
"Government's investment here is $13 million and $10 million in recent times to ensure we can roll out the new plan. This is a special place and it will be an example of how to do things well," Minister for Energy, Environment and Climate Change Lily D'Ambrosio said.