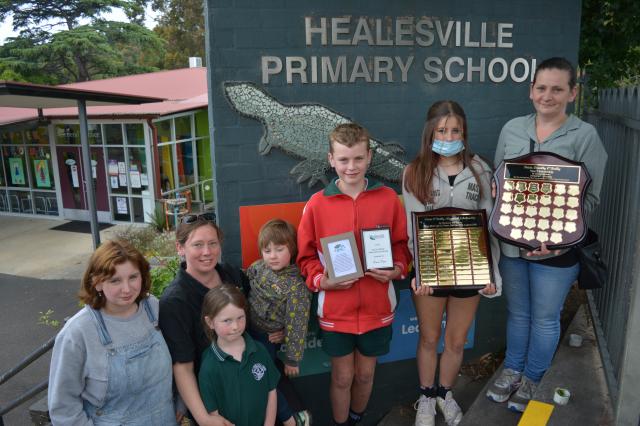 By Renee Wood
Grade six student and School Captain Zaine Dyer has been named as this year's recipient of the Tricia O'Reilly Memorial Scholarship and Award at Healesville Primary School on Friday 10 December.
The annual award is given to a grade six student who's proven they emulate the qualities Tricia showed and who is an all round great student upholding the school's values.
Zaine said he was very overwhelmed when he heard his name get called for the prestigious recognition.
"I was just surprised to be honest, I didn't expect that I was going to get it but when I heard I was very happy," he said.
Healesville Primary School Principal Tracey Robinson-Smith said he is an outstanding, reliable and responsible student.
"He's incredibly empathetic and also very responsible, and if you give him a job, you know that he'll give that 120 per cent," Ms Robinson-Smith said.
The award started in 2001 in honour of Tricia, a Healesville High School and former Healesville Primary student who tragically died from a car accident when she was 12 years old.
The late Senior Sergeant Tony Van Gorp set up the award and scholarship in memory of Tricia, while it's also now a legacy for Sgt Van Gorp.
Tricia's sisters Cheryl and Danielle O'Reilly attended the ceremony with their children, and attend each year to show their support.
"We've seen quite a few of them when they've grown up and worked around town, and they've definitely gone a long way a lot of them, so it's pretty amazing," Danielle O'Reilly said.
"It's nice to see a male receive it, and being in a small town it's nice to watch people you know grow," Cheryl O'Reilly said.
The award is also given to the student who is going to Healesville High School the following year.
Healesville High School principal Allan Rennick said he's looking forward to welcoming Zaine at the school next year.
"I'm sure we will get from Zaine what we have got from previous recipients, we're expecting to see him uphold those school values and I'm sure he will because the primary school puts so much effort into choosing the recipient that I know he will be a wonderful student," he said.