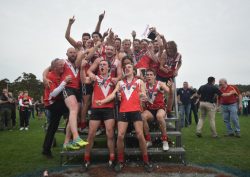 By Peter Douglas
A Dreamtime match between Healesville and Woori Yallock will head a host of marquee games in the AFL Yarra Ranges league this season.
After discussions began midway through last season, the concept is set to become a reality and will highlight the many contributions of local Indigenous footballers.
The match will attempt to build upon the now traditional marquee match between Essendon and Richmond, which takes place during the Sir Doug Nicholls round of the AFL.
Fittingly, the local match will also be held on the same week as its AFL counterpart, which will be late May, in Round 10 of the AFL.
AFL Yarra Ranges Commercial and Regional Operations Manager, Cameron Hutchison, said the league was excited over its introduction.
"It's something that was mentioned midway through last year with community Elders and has gained great support," he said.
"The Dreamtime match will bring something special to the competition this season."
Mr Hutchison said there were plenty of reasons to get excited for the upcoming season, with the senior teams due to kick off on Saturday, 8 April.
"It'll be a great year for Tigers, whether it's Woori Yallock or Upwey-Tecoma, with both clubs set to play 1000 games this year," he said.
"Some veterans matches will move under-lights on a Saturday night, away from Sunday games, which will keep them more involved with the senior teams.
"There have been upgrades to many facilities, including at Emerald (new pavilion) and Powelltown."
Season 2017 will also feature a Worksafe Game of the Month, which, enticingly, will take place between the combatants of last year's Division 1 grand final, Healesville and Olinda.
These events aim to shine a light on country football and regularly attract top guests speakers, such as AFL legends and netball icons.
Meanwhile, Mr Hutchison said he was really pleased with the 'organic growth' of women's football in the region, with the Mount Evelyn and Yarra Junction clubs proving to be a great drawcard for the women's game at grassroots level.
With many clubs enjoying strong recruitment drives and preseasons, Mr Hutchison said he expects many tight matches throughout the season.