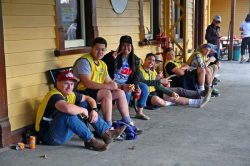 By Derek Schlennstedt
Work on the Yarra Valley Regional Tourist Precinct and Rail Link Project continues and in recent weeks a milestone was achieved by the Yarra Valley Railway, with all bridges now complete in the section between Yarra Glen and Tarrawarra Estate.
The last bridge to be completed in recent weeks was bridge 17 at Simpsons Lane, Yarra Glen where it was turned into a concrete culvert to provide unrestricted car access to Zonzo's Estate under the railway.
Retaining wall platforms have also been completed at Yarra Glen and Tarrawarra and the large majority of the work has been accomplished due to help from community volunteers. Over the past 12 months the Yarra Valley Railway has completed 60,000 volunteer hours, with over 500 volunteers from 10 different community groups being involved.
The Church of Jesus Christ Latter Days Saints are a part of the community commitment to the reconstruction of the railway, which will eventually see Healesille and Lilydale connected by rail.
The church regularly helps the Yarra Valley Railway as part of its ongoing community service and on Saturday 29 the group provided approximately 60 volunteers, including 40 young missionary elders and sisters wearing their community service yellow 'Helping Hands' vests.
The Yarra Valley Railway said it was grateful for the assistance of all the community groups that have assisted so far in the reconstruction of the railway.