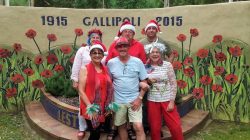 By Kath Gannaway
Warburton RSL members got all wrapped up in the spirit of Christmas last week, packing 40 Christmas Care packages for defence force men and women serving in the Middle East.
"We hope that the joy we received from doing this, leaks into the parcels to give joy at Christmas to our troops, who are doing their part to make the world a better place for present and future generations," treasurer Coral Reynolds said.
Care packages can be sent to the Middle East, but must comply with Australia Post guidelines. To qualify for free postage, packages must weigh under two kilos and must be packed in a 'BM' size box which costs around $2.
Address your package to 'An Australian Soldier, Christmas Mail, Middle East Operations, AFPO 60, Australian Defence Force. Sydney. NSW. 2890
For more information, visit http://www.defence.gov.au/events/christmas/support.asp.