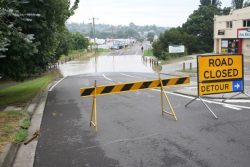 Melbourne Water has proposed changes to flooding overlays in parts of the Yarra Ranges that are susceptible to flooding.
In changes Melbourne Water hopes will better reflect present conditions, the proposed changes will affect two overlay controls – the Land Subject to Inundation Overlay (LSIO) and the Special Building Overlay (SBO), which were introduced into the Yarra Ranges Planning Scheme in the early 2000s.
The overlays are in place to ensure that affected land is developed in a way that reduces the potential for flooding and minimises risk of damage to properties.
At the 12 September meeting, Yarra Ranges Council resolved to request that the Planning Minister Richard Wynne authorise the preparation and public exhibition of the proposed planning scheme amendment.
Once council receives authorisation from the Minister, all relevant landowners will be notified and Melbourne Water will assist council to meet affected residents to explain the proposed changes.
Residents will have the opportunity to make a formal submission on the amendment via Have Your Say on council's website during the upcoming community consultation, expected to occur in October.