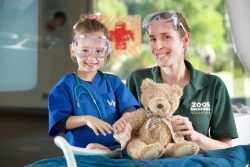 Teddies are precious and they deserve lots of love, care and special attention – just like the wildlife at Healesville Sanctuary!
So that makes the zoos the ideal place for teddy vet checks.
During the spring school holidays, kids are invited to meet the special teddy check teams and find out about the care that is needed to look after their lovable friends as well as the care the sanctuary's animals receive, too.
Dr Hart and the volunteer teddy doctors will be attending and mending all sorts of patients in the Australian Wildlife Health Centre from plush wombats, to giraffes and gorillas.
Kids too can become a vet, and diagnose their teddy and then of course bandage them up so they are ready to be played with and then kids can grab their teddy vet check certificate to take home and hang on the wall.
Teddies of course play a special role in our lives and the teddy vet checks are the perfect way to nurture children's kindness for other beings, whether human, animal or teddy bear.
The complimentary teddy vet checks will be offered every day of the spring school holidays, from 11am to 3pm, with patients receiving a free Teddy Vet Check certificate for their brave teddy to take home.