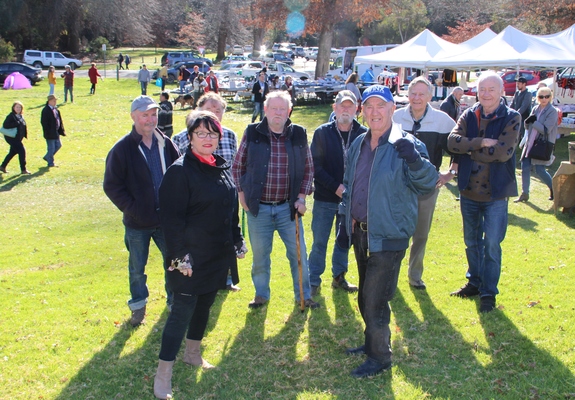 By Kath Gannaway
Labor candidate for Eildon, Sally Brennan, has pledged her support for keeping Healesville Green as an open community space.
The future of the VicTrack-owned open space on the corner of River Street and Green Street in Healesville remains uncertain following a hike in valuation from the originally estimated $400,000 to a revised valuation by the State Government Valuer General of $1.18million.
A rezoning of the land would clear the way for commercial development.
Ms Brennan joined Healesville resident Ray Donkin, a staunch advocate for retaining the land in community hands, and HAG members at the community market on 1 July.
Mr Donkin called on market-goers and stall holders to support a call for the government to intervene and hand the land over to Yarra Ranges Council.
"It's just a piece of paper to the government. The minister could pick up the phone in five minutes and say hand it back to the shire," he said.
"This land owes them nothing; if anything they (VicTrack) has benefited from the rent they have collected when there was a panel beating works on it. They have never had any costs involved in keeping this land."
He questioned whether Healesville needed any more shops or commercial space, but said the green space was an asset to the town.
Ms Brennan said the proposal to keep The Green green had her full support.
"It's a small piece of land, but a very important piece of land," she said, but was not convinced that it was a simple process to get the government to hand over the land.
"The point I would like to make is it's sometimes quite difficult for community groups who feel strongly, as this group does, to navigate those kinds of corridors of government to find someone who is going to listen," she said.
"The processes can be complex and that's where I am happy to help, to use my position as a candidate to try to shortcut this process on behalf of the group."
"My personal view on this is that green spaces are really important to keep, especially when they are in the middle of town, and in this case this land is a lovely extension from that big car park area into the town.
"I will take this as far as I can," she said.
HAG chair John Anwin is on record as saying that the group believes that despite an increase in the valuation, the money would be 'well spent'.
He supported Mr Donkin's suggestion that residents make their views known to the Ministers involved, Tim Pallas (Treasurer) and Jacinta Allen (Transport).
"This land was bought with taxpayer money and as a good will gesture, if nothing else, it should be returned to the Healesville community, preferably at a nominal figure, or at least a discounted rate," he said.